Earlier in the week, Carmen and I took her car to the shop to get some minor annoyances taken care of. I had told her that if the cost of the repairs was more than $500, we should just donate it and find something else. It's a 2001 Ford Taurus that she uses to get to and from work, and not much more, and we have only had it a year so she isn't attached to it like I was my Cougar. Thursday we got a call from the shop saying that in addition to the suspension work we knew about, the car needed a pan gasket, timing chain cover gasket, the #4 cylinder was running so hot it cracked a spark plug, and a tie rod end was shot. The timing chain cover alone was $1,000 worth of work, so I said I'd be down to get it in the morning. I told Carmen the news, and we decided to setup the delivery of the car to the Salvation Army. Even with all those things wrong, they could still get $500 from the sale of the car at auction, and we'd get the deduction on our taxes. With everything set, we finished our evening and turned in for the night.
Friday morning started off with an early morning tech call, but was done by 8:15 so I decided to head home, grab Carmen and the boys, and head to the shop to get the car. On my way home, I get a call from the shop. (I am purposely omitting the shop and shop manager name from this post) Here is how the conversation went down:
"This is Frank"
"Hey, it's shop manager."
"I'm on my way home to grab the family and will be right down to get that POS"
"Um……yeah, you aren't going to believe this…."
"What, did (mutual friend) wreck his truck before he could bring it in? Ha!"
"I've been doing this for a long time and this has never happened, but someone stole the wheels off your car."
Silence.
I love Ford vehicles. Never have I heard anyone having anything stolen from or off a Taurus. Ever. It's a family car, a plain old reliable family car. Nothing flashy, just a dependable, comfortable ride. I joked after having put a spoiler on our 2002 Taurus I dubbed "Black Beauty" that it was now family with a splash of sport. That said, the 2001 had factory wheels, nothing special, just stock, aluminum wheels.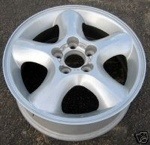 See? Plain jane.
"Uh, what?"
"Yeah, I know, I said the same thing. Nobody steals wheels off a Taurus."
"Well, I'm heading down now then and we will figure this out."
"I'm trying to find some replacement wheels for you to get it over to the auction. Again, I'm really sorry."
"Don't sweat it, not like you stole them. See you in a few."
With that, I was on my way to the shop and on the phone to Carmen. I explained what happened, and told her I was headed down to check out the car. I wasn't upset, because it's a thing. I was more disappointed for the charity. What really amazes me, is that this piece of shit that took the wheels, did so under a light, on Broadway, a mere 20 feet from where a CB Police Officer sits at night.
When I pulled into the service station, I started laughing uncontrollably at the state of my car. There is sat, covered in a thin layer of snow, sitting on four lose tires and a brick. I could keep describing the scene, but a picture is worth a thousand words.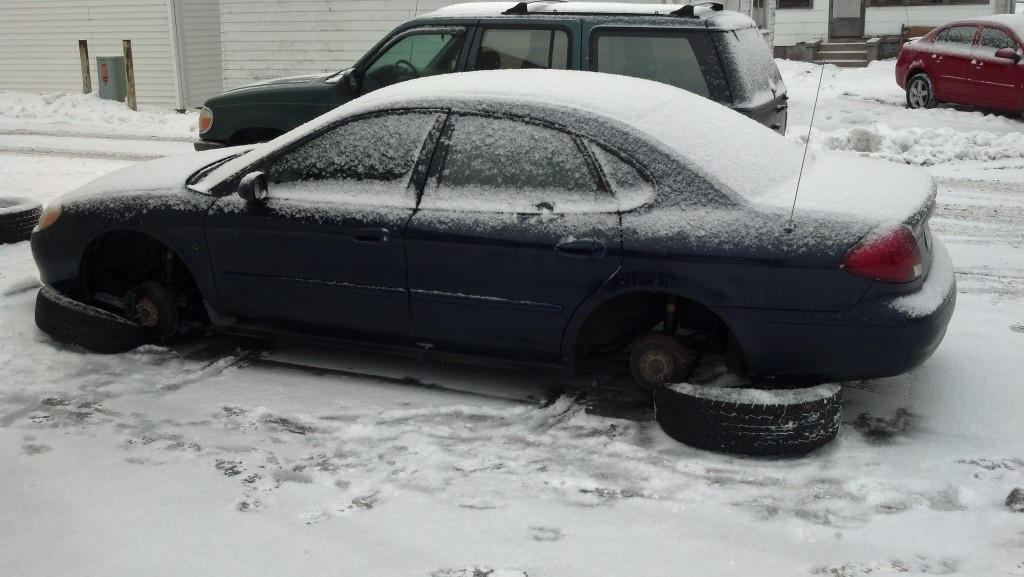 Yep, all four tires gone. Did we get them back? Did we get new tires? You'll have to stay tuned to Part 2!
A great song, but no, it's not the end. Mayans=1, MSM and Doomsdayers=0.